Running Time:
1 hour, 47 minutes
Rating: PG Parental Guidance Suggested.

Rating Explanation:
for rude humor, language, action and smoking.
Additional Info:
Added DVD Features: 10 Deleted Scenes and Meet the Real Creatures of Dirt!; PLUS Closed Caption.

Featuring the voices of:
Johnny Depp ... Rango / Lars
Isla Fisher ... Beans
Abigail Breslin ... Priscilla
Ned Beatty ... Mayor
Alfred Molina ... Roadkill
Bill Nighy ... Rattlesnake Jake
Stephen Root ... Doc
Harry Dean Stanton ... Balthazar
Ray Winstone ... Bad Bill
Timothy Olyphant ... Spirit of the West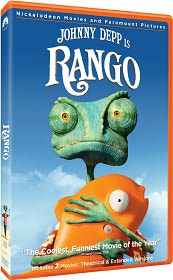 The story involves a pet chameleon (voiced by Johnny Depp) who fancies himself an actor who idles away his hours in a terrarium, performing skits with a headless plastic doll and a palm tree. When his owner's car narrowly dodges the path of a tractor trailer, his glass case is thrown from the backseat, shattering across a steamy desert landscape. Suddenly unleashed into the outside world for the first time, the lizard takes the advice of a half-splattered armadillo (Alfred Molina) and travels across the sands until he meets the feisty, headstrong Beans (Isla Fisher), an iguana struggling to save her dead daddy's ranch from being sold. Her hometown of Dirt, a bone-dry remnant of the past, is currently having a serious water shortage problem. The lizard, seeing this as his chance to play one of the fictional roles he's only ever acted for himself, sweeps in and takes command as a tough, seasoned, gun-toting lawman. Calling himself Rango (he gets the name from the words on the side of a cactus juice container) he quickly takes on the role of Dirt's new sheriff without really knowing the first thing about running a town.

As Rango struggles to keep up the charade, he is soon front and center in an investigation to find out who is behind a dwindling water supply that, if not remedied, could spell extinction for all the residents. Director Gore Verbinski ("Pirates of the Caribbean") has made a stunningly animated, ridiculously entertaining movie, full of wonder and delight. It's probably the first picture this year that will still be remembered next year, and that's no small feat.