Running Time:
1 hour, 33 minutes
Rating: PG Parental Guidance Suggested.

Rating Explanation:
for mild action, some rude humor and brief language.
Additional Info:
DVD Features: Closed Caption; Spotlight on Shrek; Secrets of Shrek Forever After; Deleted Scenes; Filmmakers' Commentary.

Featuring the voices of:
Mike Myers ... Shrek
Eddie Murphy ... Donkey
Cameron Diaz ... Princess Fiona
Antonio Banderas ... Puss in Boots
Julie Andrews ... Queen
Jon Hamm ... Brogan
John Cleese ... King
Craig Robinson ... Cookie
Walt Dohrn ... Rumpelstiltskin
Jane Lynch ... Gretched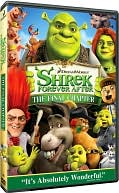 After challenging an evil dragon, rescuing a beautiful princess and saving your in-laws' kingdom, whats an ogre to do? Well, if you're Shrek (voice of Mike Myers), you suddenly wind up a domesticated family man. Instead of scaring villagers away like he used to, he and Fiona (Cameron Diaz) are happily married with baby ogre triplets. Donkey (Eddie Murphy) and his family come to visit regularly. Life is pleasant, but a little boring.

You may recall that when Shrek learned Fiona was pregnant, in the last movie, he worried about the drudgery and stress of fatherhood. Now he is completely domesticated, and he's stuck in a rut. He's a local celebrity, beloved throughout the land. Life is good, but ... well, one can't help occasionally getting wistful for the old days, when one was a terrifying ogre with no responsibilities. Suddenly Rumpelstiltskin (Walt Dohrn), a nerdy, hyperactive little troll who grants magical wishes arrives on the scene. He blames Shrek for ruining his chances at becoming king of Far Far Away and offers him a sneaky deal. The result is that suddenly, Shrek was never born. And without him, the world is vastly different.


Rumpelstiltskin is king of Far Far Away, ruling with an iron fist and aided by an army of witches. Fiona and the other ogres comprise an underground resistance movement. Her pet cat, Puss in Boots (Antonio Banderas) is fat and lazy. Donkey pulls a cart for the royal palace. In this alternate universe, poor Gingerbread Man (Conrad Vernon) is a gladiator slave. Shrek must get out of his deal with Rumpelstiltskin and convince Fiona that she's really in love with him.

Shrek Forever After moves along jauntily enough; a chase sequence on flying broomsticks is rather exciting; and there are a handful of laugh-out-loud gags and scattered chuckles. But it's Puss in Boots who continues to steal the show. And you can be sure he'll be back....and probably in his own movie. But this Shrek is thankfully the last one, and that's alright.